You need to know when buying a modern Smart Android TV
The modern house is hard to imagine without a Smart Android TV. Even if you are not a fan of traditional television, a modern TV will allow you to watch movies on the big screen from the Internet or streaming services like Netflix. Also on a modern TV, it is convenient to play console games. A large screen and a soft sofa – what you need for a good rest.
Here's what points you need to pay attention to when choosing a modern Smart Android TV.
Smart TV functions and interface
Most of the today's TVs – more than just boxes with a screen. They support numerous applications, some have built-in games and other interesting things.
Observations show that a modern user when he gets bored with a telecast starts to dig into smart functions and spends a lot of time there. Therefore, when buying a Smart Android  TV, you should spend a few minutes researching its interface. Probably, you will spend a lot of time in it, so the interface should seem convenient to you.
Last year, Netflix streaming TV started operating in Ukraine. Probably, this or next year it is worth waiting for the appearance of Amazon Prime TV. However, you probably want the TV to also support the playback of YouTube videos. However, if by default some applications are not installed, you can install them manually. Most modern operating systems, like Android TV, LG webOS or Panasonic Home Screen 2.0 support this feature. Anyway, as already mentioned, the smart interface should be convenient to you specifically. The rest is a matter of habit.
Image Quality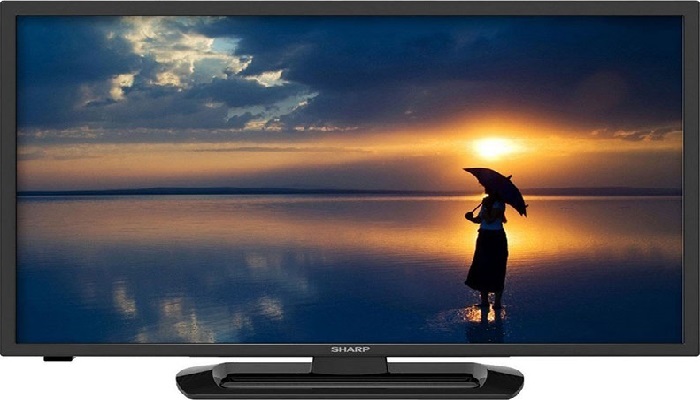 A good image consists of many elements, and the curvature of at least one of them can destroy the whole impression of viewing. Given this, pay attention to such things:
Contrast
Contrast is one of the most important characteristics of an image. Pay attention to the black color. It must be really deep and black, not bluish or gray. Try to open a completely black image on the Smart Android TV (for example, download it from a USB flash drive). Black color should be the same across the entire screen area, including corners. Then open the black and white image and make sure that around the white parts do not spread light halos, overlapping black areas.
Brightness
In a dimly lit room, even a display with a low brightness looks decent. But if you plan to install the Smart Android TV in a brightly lit room, make sure that there is enough brightness to make the image clearly visible.
To test the brightness, open a photo on the TV, which will show a dark object with a lot of small dark details, but located on a bright, preferably white background. Small details on a dark object should not be lost sight of.
Viewing angles
For Smart Android TV, viewing angles are much more important than for a monitor. The monitor assumes that you are sitting directly in front of it, but as for the TV, viewers tend to shift, depending on the situation.
Checking the viewing angles is pretty simple. Turn on the TV and go around it. Look at the image above and below. When you crouch or rise, the brightness of the image should not change. When you shift horizontally, the TV should not distort colors. Testing the viewing angles is also better in a static image, for example, in a photo.
Color
The color is the parameter that is hardest to evaluate when buying a Smart Android TV in a store. So you will have to assess it subjectively. Try to understand how natural shades appear on the image as a whole and on its individual elements. Pay attention to the colors. Green should not look either too acidic or painful. Red should be red, not orange or purple. Blue should not be too light.
Evaluate how balanced the colors in the picture look. Does not one of them attract more attention to itself than all the others? How smoothly the TV transmits a gradient of hues. Open the image with a smooth transition from light to dark and try to find the border of the transition on it. Such boundaries should not be, or they should be as inconspicuous as possible.
Sharpen
If you buy a Smart Android TV with high resolution, make sure that it does a good job of displaying a detailed image. To do this, it is desirable to have at hand a piece of video or at least a few photos in high resolution. You are interested in a variety of small things – grains of sand, individual hairs on the skin, the texture of objects and other things that a person deliberately does not pay attention to. The TV with good sharpness does not lose these objects, due to this the picture on it looks realistic.
Motion
To assess how the TV reproduces the movement, you will also need snippets of video for the tests. It is advisable to check how the TV copes with different frame rates. So, modern console games have a frequency of 60 frames per second. European high-definition television broadcasts at a rate of 50 frames per second. Movies on Blu-ray have a frequency of 24 frames per second.
You are interested in dynamic fighting scenes. The picture on the TV should not slow down, objects should not double when the frames change sharply. Also, you should not have a feeling that the frames are replaced with a microscopic delay, behind the sound.
Sound quality
The sound can be completely indifferent to you if you use your own audio system with the Smart Android TV. But if you rely on built-in speakers, they are also better to check. It is quite easy to do this. Pay attention to such things. The sound should not rip and rustle at high frequencies. Bass should qualitatively transmit the noise of shots, explosions, earthquakes. In this case, the sound should not be clogged or muffled. From the flash drive open on your TV an mp3 track with your favorite song and listen to its details. They should sound as clear and clear as you have in your headphones. Voices of men and women should seem realistic. Listen to whether the body of the TV is not rattling during loud sounds.
If you come to testing in detail and do not miss anything, your new TV will delight you for many years.
Rashed Ahmed regularly contributes to popular online magazines and living ideas to various blogs around the web. When he's not busy working with the work, you will find him undertaking many of her own lifestyle-related topics and living ideas! He has a lot of dreams. He works hard to fulfill his dreams. He loves to share his ideas, tricks, tips, and information by blogging. He also works at find business ideas, a business marketing company that committed to helping businesses with online marketing.